Relief Valves


Series 8600
Description
These easily field adjustable relief valves provide for the protection of equipment components installed in systems where they may be exposed to over pressurization due to the failure of another component or an operator error.
Features
Working pressure to 3000 psig.
Wide range of pressure adjustment.
100% tested for crack and reseal performance.
Available in brass and stainless steel.
Specifications
Maximum Working Pressure @ 70° psig
Flow Coefficient (Cv): 0.35
Temperature Rating:
| | | |
| --- | --- | --- |
| | with Buna-N o-ring | -10 to 250°F. |
| | with Viton® o-ring | -10 to 375°F. |
| O-ring Material: | brass | Buna-N |
| | stainless steel | Viton® |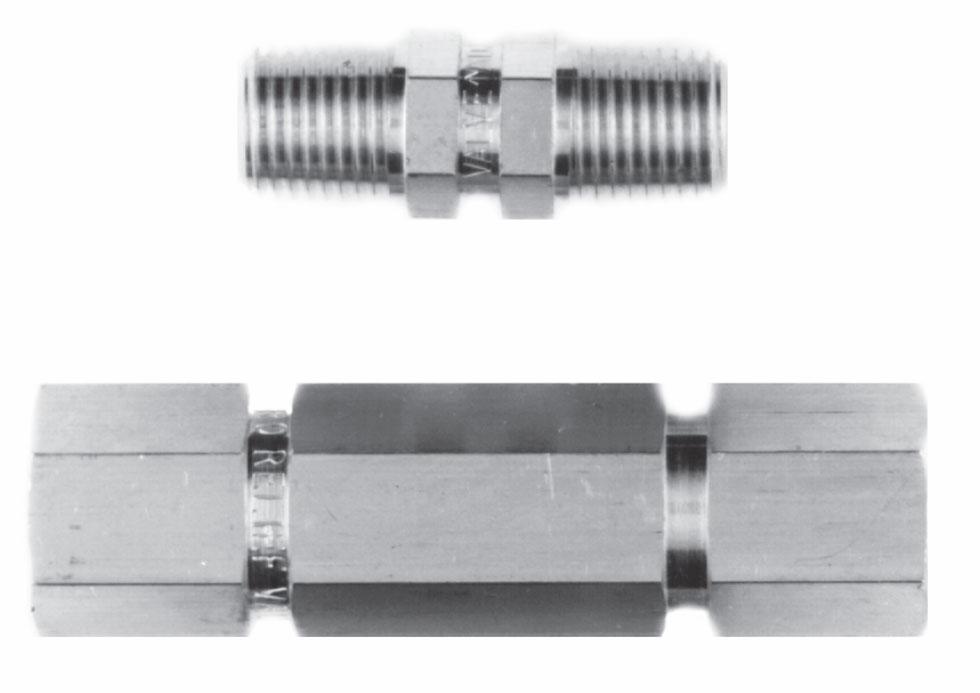 How To Order
Model
Material
Adjustable Range
Connections
inlet x outlet
8614-3-P4MM
brass
3-20 psig
1/4" NPT male x 1/4" NPT male
8614-20-P4MM
brass
20-65 psig
1/4" NPT male x 1/4" NPT male
8614-65-P4MM
brass
65-175 psig
1/4" NPT male x 1/4" NPT male
8614-175-P4MM
brass
175-350 psig
1/4" NPT male x 1/4" NPT male
8614-350-P4MM
brass
350-600 psig
1/4" NPT male x 1/4" NPT male
8614-3-P4FF
brass
3-20 psig
1/4" NPT female x 1/4" NPT female
8614-20-P4FF
brass
20-65 psig
1/4" NPT female x 1/4" NPT female
8614-65-P4FF
brass
65-175 psig
1/4" NPT female x 1/4" NPT female
8614-175-P4FF
brass
175-350 psig
1/4" NPT female x 1/4" NPT female
8614-350-P4FF
brass
350-600 psig
1/4" NPT female x 1/4" NPT female
8624-3-P4MM
stainless
3-20 psig
1/4" NPT male x 1/4" NPT male
8624-20-P4MM
stainless
20-65 psig
1/4" NPT male x 1/4" NPT male
8624-65-P4MM
stainless
65-175 psig
1/4" NPT male x 1/4" NPT male
8624-175-P4MM
stainless
175-350 psig
1/4" NPT male x 1/4" NPT male
8624-350-P4MM
stainless
350-600 psig
1/4" NPT male x 1/4" NPT male
8624-3-P4FF
stainless
3-20 psig
1/4" NPT female x 1/4" NPT female
8624-20-P4FF
stainless
20-65 psig
1/4" NPT female x 1/4" NPT female
8624-65-P4FF
stainless
65-175 psig
1/4" NPT female x 1/4" NPT female
8624-175-P4FF
stainless
175-350 psig
1/4" NPT female x 1/4" NPT female
8624-350-P4FF
stainless
350-600 psig
1/4" NPT female x 1/4" NPT female