Laser Cutting Pressure Regulator
Series 3870H
Description
The 3870H regulator is specifically designed to meet the high flow, high pressure assist gas requirements of the laser cutter. It has fast on-off-on response, high flow capacity, and delivers the pressures required for the job. Whether your source gas is cryogenic or high pressure, this regulator can handle the job. The regulator is actually two regulators in one body – a dome-loaded piston regulator with a sensitive diaphragm actuated dome loader built in.
Features
Rapid on-off-on response even at high flow rates.
1/2" NPT female inlet and outlet connections.
High flow capacity Cv = 0.55.
Minimal delivery pressure decay (0.3 psi/100 psi).
Built-in dome loader regulator.
Bonnet threaded to accept panel nut.
Encapsulated seats with 10 micron filter.
Specifications And Materials of Construction
| | |
| --- | --- |
| Max. Inlet Pressure | 3000 psig (optional 5500 psig available) |
| Outlet Press Ranges | 0-250 psig, 0-500 psig, 0-1000 psig |
| Inlet and Outlet Ports | 1/2" NPT female |
| Inlet and Outlet Gauge Ports | 1/4" NPT female |
| Body | brass |
| Dome Loader Diaphragm | PTFE Teflon® coated neoprene |
| Seats & Seals | PTFE Teflon® |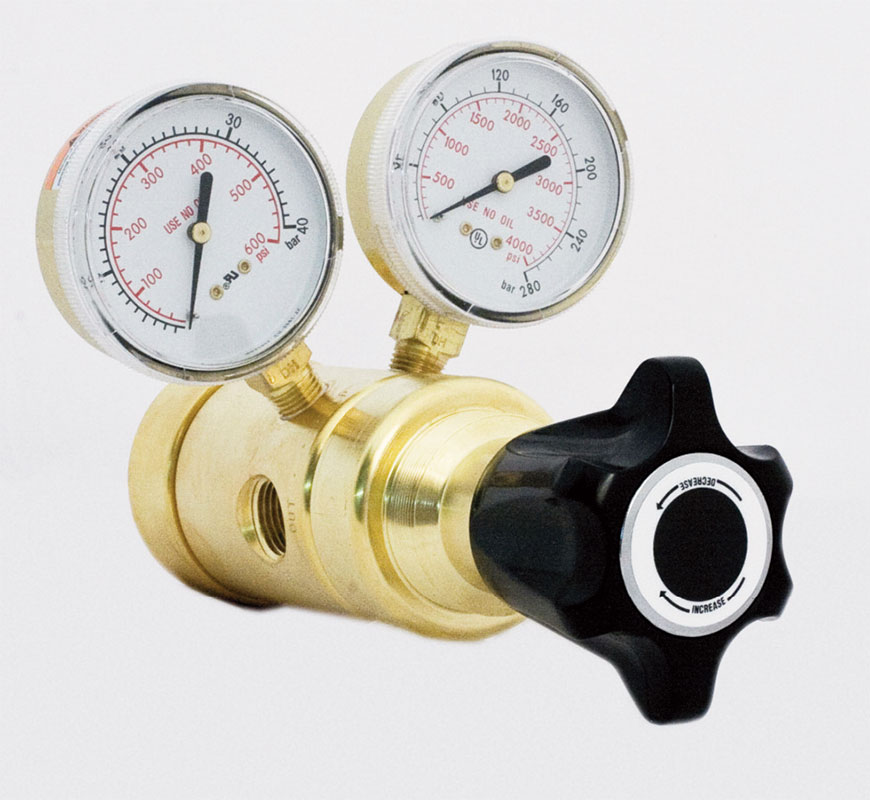 How To Order
Model
Del. Pressure
psig
Description Del. Press. Gauge
psig
Inlet Press. Gauge
psig
3870H-250
0-250
0-400
0-4000
3870H-500
0-500
0-600
0-4000
3870H-1000
0-1000
0-2000
0-4000
Options
Panel mount nut P/N 9100887