Demand Flow Regulator


Series 3950
Description
This new single stage design using balanced valve stem technology is more sensitive than older two stage technologies providing g better performance even with high inlet pressures. This regulator is designed for use with instruments that use a pump to draw the calibration gas into the instrument. The 3950 series demand flow regulator provides the exact amount of calibration gas the instrument pump requires. This simple to use regulator makes calibration quick and easy by eliminating the need for sample bags, flowmeters, or special operator training.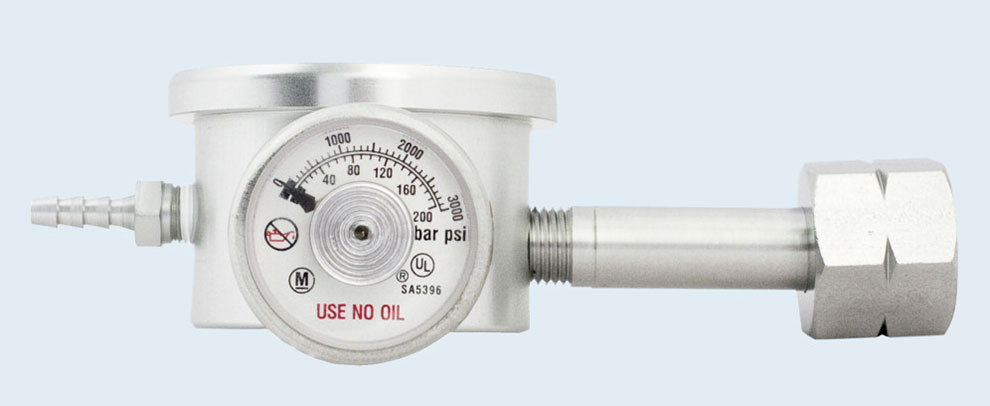 Features
Precise delivery of calibration gas required by instrument pump.
New single stage balanced valve stem technology.
Simple easy to use operation.
Various cylinder connections available: C-10, CGA 600, other CGAs.
40 micron inlet filter.
Specifications
Outlet hose barb for 3/16" ID hose
Flow 0-3 slpm @ 3" of H2O vacuum
Inlet pressure gauge:

0-3000 psig with GCA connection
0-1200 psig with C10 connection
Materials of Construction
| | Model 3951 | Model 3952 |
| --- | --- | --- |
| Body | clear anodized aluminum | clear anodized aluminum |
| Bonnet | clear anodized aluminum | clear anodized aluminum |
| Diaphragm | Buna-N | Viton® |
| Main valve seat | Viton® and Teflon® | Viton® and Teflon® |
| Inlet pressure gauge | stainless steel case with brass socket | stainless steel case with brass socket |
How To Order
Model
Description
3951-C10
Demand Flow Regulator with C-10 inlet connection
3951-600

Demand Flow Regulator with

CGA 600 inlet connection
3951-CGA

Demand Flow Regulator with

selected CGA connection
3952-C10

Demand Flow Regulator with

C-10 inlet connection
3952-CGA

Demand Flow Regulator with

selected CGA connection