Excess Flow Valves


Series EFV
Description
The EFV Series are gas valves are designed to automatically shut off the flow of gas when flow exceeds a preset level. They are used to protect systems and/or people in the event of a line failure downstream of the valve. The Series consists of three valves that are remarkably flexible to meet a broad range of applications. All valves are set at the factory to customer specifications. Each valve has a built-in slide switch or knob to quickly rest the valve once the system leak has been repaired.
Materials Of Construction
Wetted Parts

*

=X
Seals = Y
Trip Point = Z
A = 360 Brass
V = Viton®
Specify flow rate
B = 303 SS
N = neoprene
and operating flow pressure

*

Internal parts are 303 SS in all units
E = EPDM
How To Order
Model (choose X, Y, and Z from table above)
EFV-C-P2MM-X-Y-Z
EFV-HP-P4MM-X-Y-Z
EFV-HP-P4FF-X-Y-Z
EFV-HP-P4MF-X-Y-Z
EFV-HP-P4FM-X-Y-Z
EFV-HS-P2MM-X-Y-Z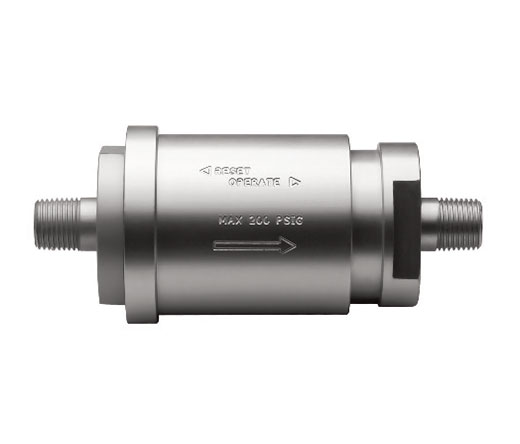 Cylinder Cleanroom Covers


Series CYL-C
Description
These reusable cylinder covers are suitable for use in semiconductor, pharmaceutical, food processing, and laboratory areas where cleanliness is a must. The covers are fabricated from non-woven Tyvek® and polypropylene combination with a high-grade Velcro seal. Fabrication is done in a clean room environment. The upper area is large enough to accommodate a pressure regulator or other gas control device.
How To Order
P/N
Description
CYL-C-9.55
Clean Room cylinder cover for T, K, A, H type cylinders

*

*

Other sizes are available please provide cylinder dimensions.