Stainless Steel
High Purity 1-Stage Regulator
Series 3400
Description
The Series 3400 single stage regulators are designed and constructed for both high purity and general purpose applications. They provide outstanding performance, yet they are rugged and versatile enough for the laboratory or plant.
Features
Low internal volume - less than 5 cc.
High purity diffusion resistant, metal diaphragm construction.
Encapsulated seat.
Diffusion resistant, stainless steel diaphragm packless control valve installed on outlet as standard.
Designed to pass an inboard helium leak-rate test of 1x10-9 cc per sec.
All parts ultrasonically cleaned prior to assembly.
Rear panel mounting holes.
Applications
The 3400 Series regulators are ideal for use with many corrosive gases, such as ammonia, hydrogen sulfide, and sulfur dioxide. They are also very useful for controlling the pressure of gas mixtures containing reactive gas components and low levels of the corrosive halogen gases, like chlorine.
Specifications
Max. Inlet Pressure: 3000 psig
Operating Temp. Range: -40° to +185°F.
Flow Coefficient (Cv): 0.08 standard, 0.2 optional

**

Inlet and Outlet: 1/4" NPT female
Outlet Valve Standard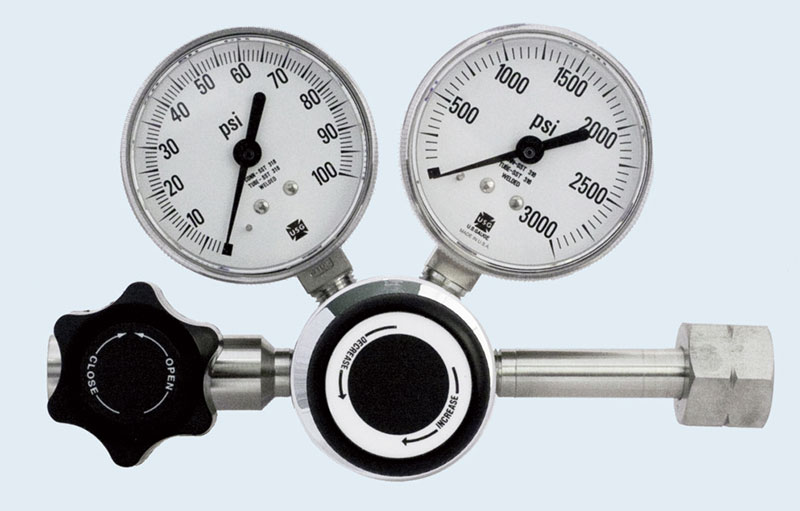 Materials of Construction
Body: 316L stainless steel
Nozzle Assembly: 316 stainless steel
Seat: Kel-F®
Diaphragm: stainless steel
Diaphragm Seal: Teflon®
Inlet Filter: stainless steel
Bonnet: nickel plated aluminum
Gauges: 316 stainless steel
Knob: aluminum - black anodized
NOTE: See pages 130-146 for gas data and equipment recommendations.
How To Order***
Model
Number
Del. Press. Range
psig
Del. Press. Gauge
psig
Inlet Press. Gauge
psig
3401-25-CGA

*

5-25
0-60
0-3000
3401-50-CGA

*

5-50
0-100
0-3000
3401-100-CGA

*

10-100
0-200
0-3000
3401-250-CGA

*

25-250
0-400
0-3000
3401-500-CGA

*

100-500
0-600
0-3000
3402-25-CGA

*

5-25
0-60
0-2000
3402-50-CGA

*

5-50
0-100
0-2000
3402-100-CGA

*

10-100
0-200
0-2000
3403-25-CGA

*

5-25
0-60
0-400
3403-25-CGA

*

5-50
0-100
0-400

*

Specify CGA Connection Number when ordering.

**

Add "HF" to basic model number (i.e. 3401HF -25-CGA).

***

For panel mounting bonnet add "PM" to base number (i.e., 3401PM-50-CGA).
WARNING: A Purge assembly (see pages 96 and 97) is strongly suggested when using the above regulators with any corrosive gas.