Depth Gas Filters


Series 7010
Description
The Series 7010 depth filters are the workhorses of laboratories and many high purity industrial processes. They are routinely used in critical gas lines and as pre-filters to extend the lifetime of more expensive filtration units. They are designed to provide high filtration efficiency at an economical cost.
The Series 7010 filters employ a microporous fiberglass media held in a 316 stainless steel all welded housing. They are available in two sizes that accommodate most flow requirements.
Features
99.9999% filtration efficiency at 0.01 micron level.
All welded 316 stainless steel construction provides compatibility with a variety of gases.
Long service life - particles are collected in the filter matrix throughout the depth of the filter.
Helium leak tested to 1 x 10-9 cc/sec.
Specifications
Filtration: 99.9999% @ 0.01 microns.
Max. Operating Pressure: 250 psig @ 250°F.
Operating Temperature: 0° to 750°F.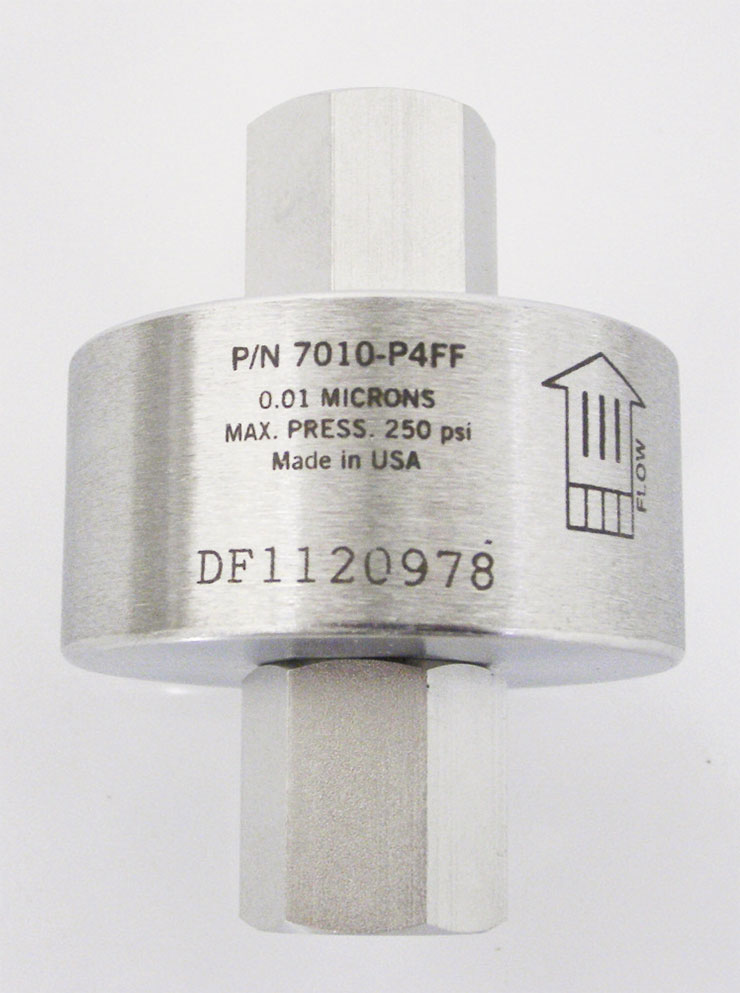 How To Order
Connection Size
Dimensions
Max. Flow@
Type of End Connection
Model Number
Inlet

**

Oulet

**

Length Inch
Diameter Inch
5 PSI ΔP Inlet SLPM
Standard Pipe
7010-P4FF
1/4" NPT female
1/4" NPT female
2.68
2.0
50
Tubing Compression
7010-T4FF
1/4" tubing compression
1/4" tubing compression
3.82
2.0
50
VCR® Compatible Face Seal
7010-V4MM
1/4" face seal male
1/4" face seal male
3.73
2.0
50
**Other end fitting configurations available on request.