Automatic Electric Gas Heaters


For Compressed Gases Series 1000 CONTINUED
Description
Many liquefied gases cool dramatically under even moderate flow conditions due to the heat of vaporization when the liquid is converted to gas. This effect causes "freezing" in pressure regulators and other equipment resulting in pressure and flow fluctuations. These thermostatically controlled heaters maintain a constant temperature within close limits regardless of load variations, thus assuring a uniform temperature and constant gas flow at all times. All units are completely automatic and can be left on indefinitely, even under no-flow conditions without damage.
Applications
Welding Operations
Hospitals/Anesthegeology
Bottling Plants/Wineries
Foundries
Food Packaging
Semiconductor
Gas Freeze-up Applications
Features
Prevents regulator freeze-up.
Thermostatically controlled.
Double protection against thermal or electrical overload.
Continuous high pressure tubing –no internal joints.
Working pressures up to 4600 psig.
Completely dry - heat exchange medium is aluminum.
Heavily insulated - cabinet remains "cool."
Can be left on, even under no-flow conditions.
Unlike ambient devices, not affected by adverse atmospheric conditions.
Flow can be in either direction, without loss of efficiency.
C.S.A. Approved.
One year guarantee on material and workmanship.
Specifications
11" high x 5.5" wide x 4.25" deep
5/16" x .049 continuous copper tubing
5/16" x .049 304 stainless tubing optional
Working pressure: up to 2500 psig (stainless steel: 4600 psig)
11 lbs. actual weight; 13 lbs. shipping weight
6' 3-wire UL/CSA cord
120/240 volts A.C., single phase
8.3/4.2 amps (1000 watts)
Mounting holes 3" on center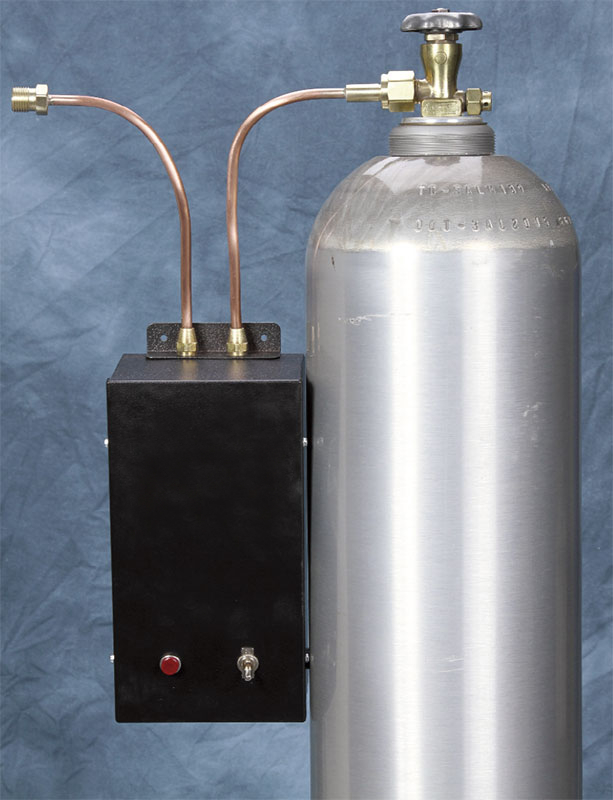 Capacity
Heating : 1000 CFH; 17 CFM; 467 liters/minute; 115 lbs./hr. (Heating valves are based on initial gas temperature of 0°F and outlet temperature of 170°F)
Vaporizing: 184CFH; 3 CFM; 84 liters/minute; 22 lbs./hr. (Vaporization valves are based upon initial liquid temperature of 0°F and outlet temperature of 170°F)
** Capacities for other gases will vary, depending on their specific heat.
How To Order
1. Select basic model
| Model Number | Number Description |
| --- | --- |
| 1000 | 1000 watts, 120 volts A.C., copper tubes |
| SS1000 | 1000 watts, 120 volts A.C., stainless steel tubes |
| SS1000A | Same as SS1000, but with adjustable thermostat |
2. Select fittings (and to end of basic model #)
Fittings
Suffix Description
-320
CGA 320 female x male (Carbon Dioxide, CO2 )
-326
CGA 326 female x male (Nitrous Oxide, N2O)
-580
CGA 580 male x female (Nitrogen, N2)
-4
1/4" NPT male x male (brass)
-4SS
1/4" NPT male x male (stainless)
Other fittings available on request.